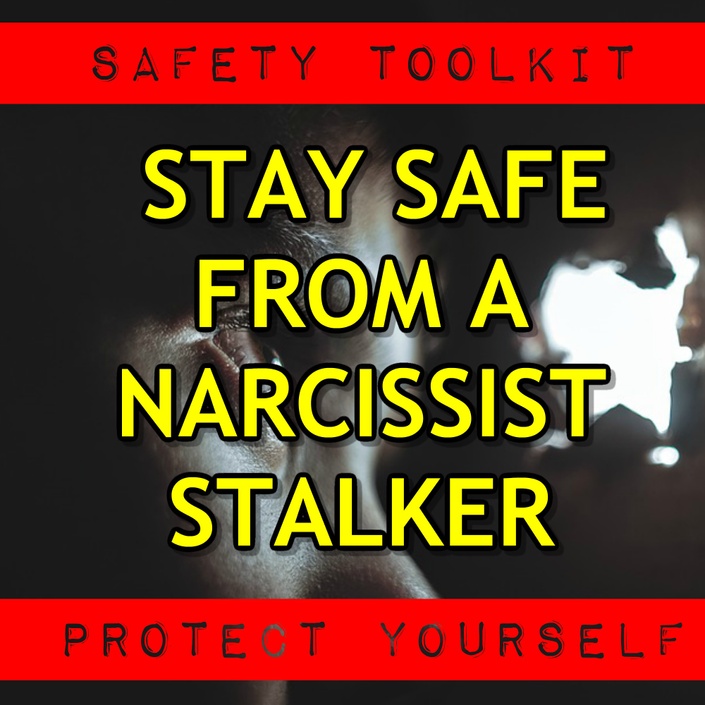 Stay Safe From a Narcissistic Stalker Toolkit
Protect Yourself From Being Stalked By a Narcissist
We know how scary and painful it can be, and we don't want to make it any more difficult for you. That's why we're giving you this toolkit absolutely free.
We want to help you arm yourself with knowledge (which equals power) and to know what to do if you are being stalked by a narcissist.

This toolkit is designed specifically for survivors of narcissistic abuse who are dealing with (or who are concerned about) a stalking narcissist.
Inside, you'll find a ton of free resources to help you understand, cope with and stay safe from a stalker, including:
Guides and links with real-world tips for identifying and dealing with a stalker.
Guides on how to protect yourself.
Tips, tools and information about stalking through technology.
A definition of and a tutorial on how to create a stalker sack.
Guides on prosecuting a stalker.
A specially curated selection of Angie Atkinson's videos to help you understand and deal with your stalker.
Plus:
A list of free courses here at LMA that might help you going forward.
More support resources and ideas.
Going through the pain and devastation of dealing with a stalker is never going to be easy, but by arming yourself with a little information and a shift in your perspective, you can start protecting yourself and being proactive in that way - plus, you can start looking toward healing, once the immediate danger is resolved.
Course Curriculum
Welcome! Start Here
Available in days
days after you enroll
Are you being stalked?
Available in days
days after you enroll
Protect Yourself: Tips, Tools and Info on How Narcissists Can Cyber-Stalk & Spy on You
Available in days
days after you enroll
This is a "no strings attached" offer from QueenBeeing.com and all that's required to get lifetime access to this toolkit is your email address. If you're ready to start taking action to protect yourself and take back your life, sign up now!